117th Annual U.P. Firefighters Tournament 2011
"Blizzard Whiteouts and Frozen Hoses"
July 28th, 29th, 30th
Calumet / Laurium MI, 49913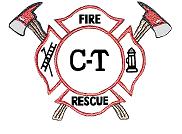 Calumet Township, Calumet Village, and Laurium Village Fire Departments would like to Thank you for visiting. Site is under Construction as we finalize Tournament Details. Please come back and visit!
See You In 2011 !!!

days 'til the Tournament

Schedule of Events.
9:00 am - 3:00 pm Registration at U.P. Firefighters Museum, 6th St. Downtown Calumet
11:00 am UP Fire Chief Meeting, Calumet Theatre, 6th St. Calumet
1:00 pm UPVFA Credentials Meeting, Calumet Theatre, 6th St. Calumet
2:00 pm UPVFA Convention Meeting, Calumet Theatre, 6th St. Calumet
6:00 pm Dress Parade Line Up, Downtown Calumet
7:00 pm Tournament Dress Parade, 5th St. Calumet to Hecla St. Laurium
10:00 pm Nightshirt Parade Line Up, 5th Street and Near Calumet Colosseum
10:30 pm Nightshirt Parade, 5th St. Downtown Calumet
Friday, July 29th 2011
8:00 am Association Race Meeting, Isle Royale St. Race Site-Gipp Arena Park, Laurium
8:30 am Race Captains Meeting, Isle Royale St. Race Site, Laurium
9:00 am Tournament Races, Isle Royale St. Race Site, Laurium
7:00 pm Firefighters Ball, Calumet Colosseum, Red Jacket St. Calumet
10:00 pm Tournament Awards Ceremony, Calumet Colosseum, Red Jacket St. Calumet
Saturday, July 30th 2011
9:00 am Commercial Parade Line Up, Mine St. Near Calumet Township Fire Station
10:00 am Tournament Commercial Parade, Mine St. thru 5th St. Calumet
12:00 pm Closing Ceremonies and Awards Presentation, U.P. Firefighters Museum, 6th St. Downtown Calumet
Maps of Events
Dress Parade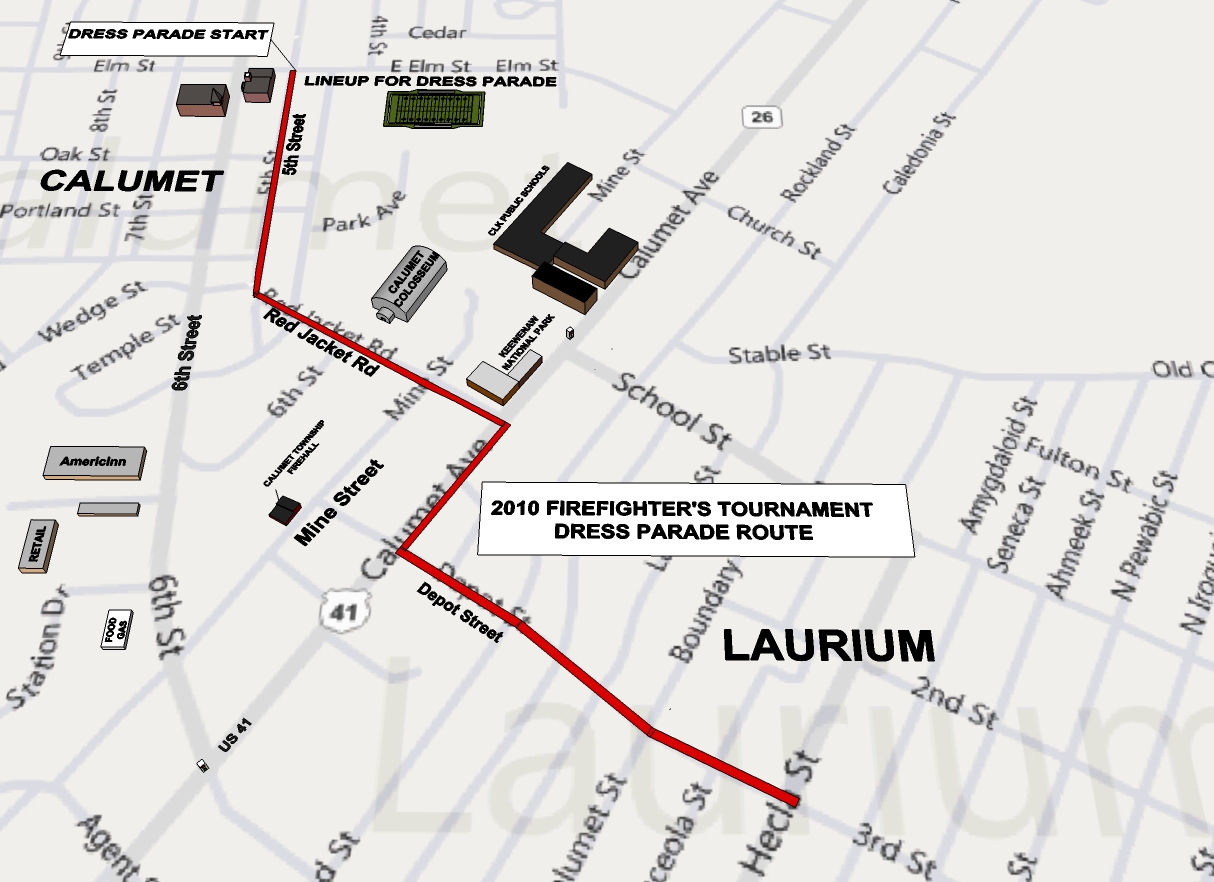 Night Shirt Parade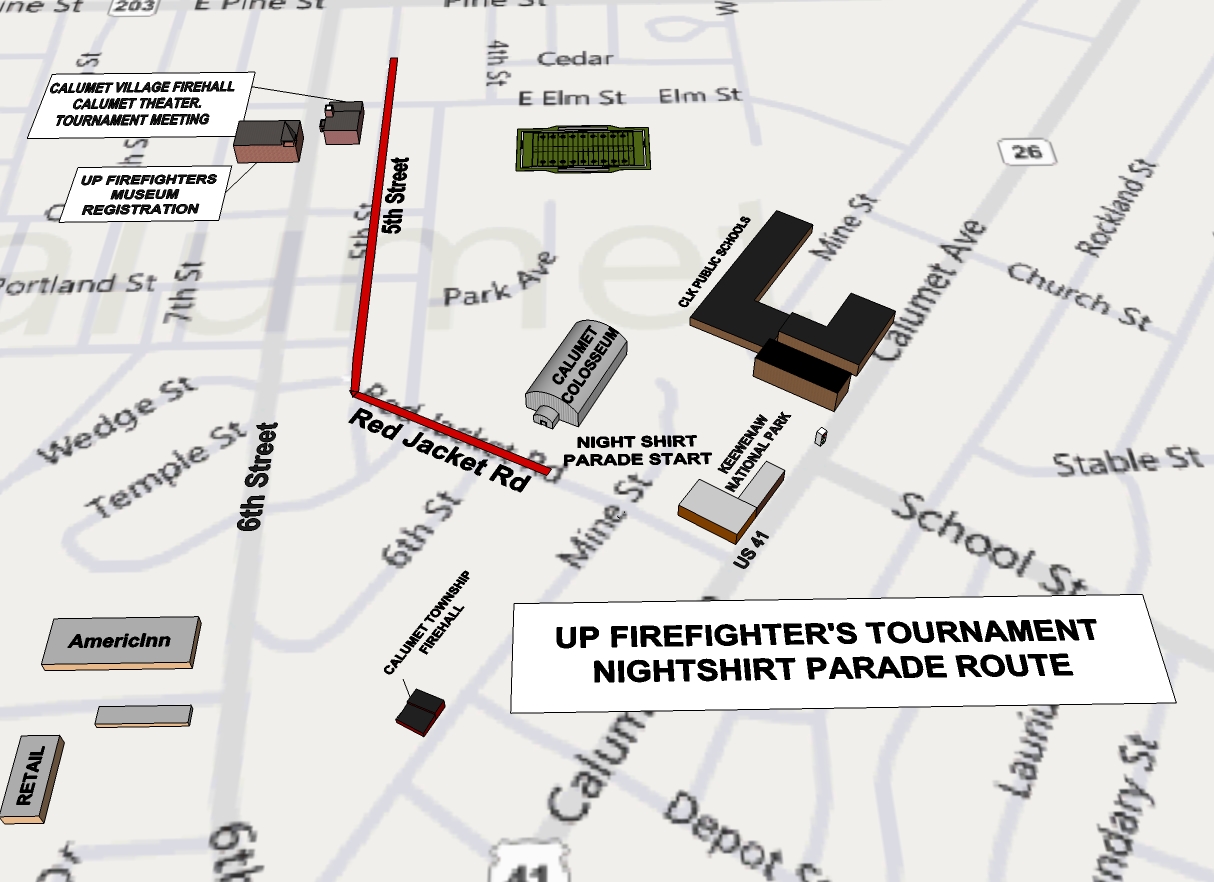 Race Location
Commercial Parade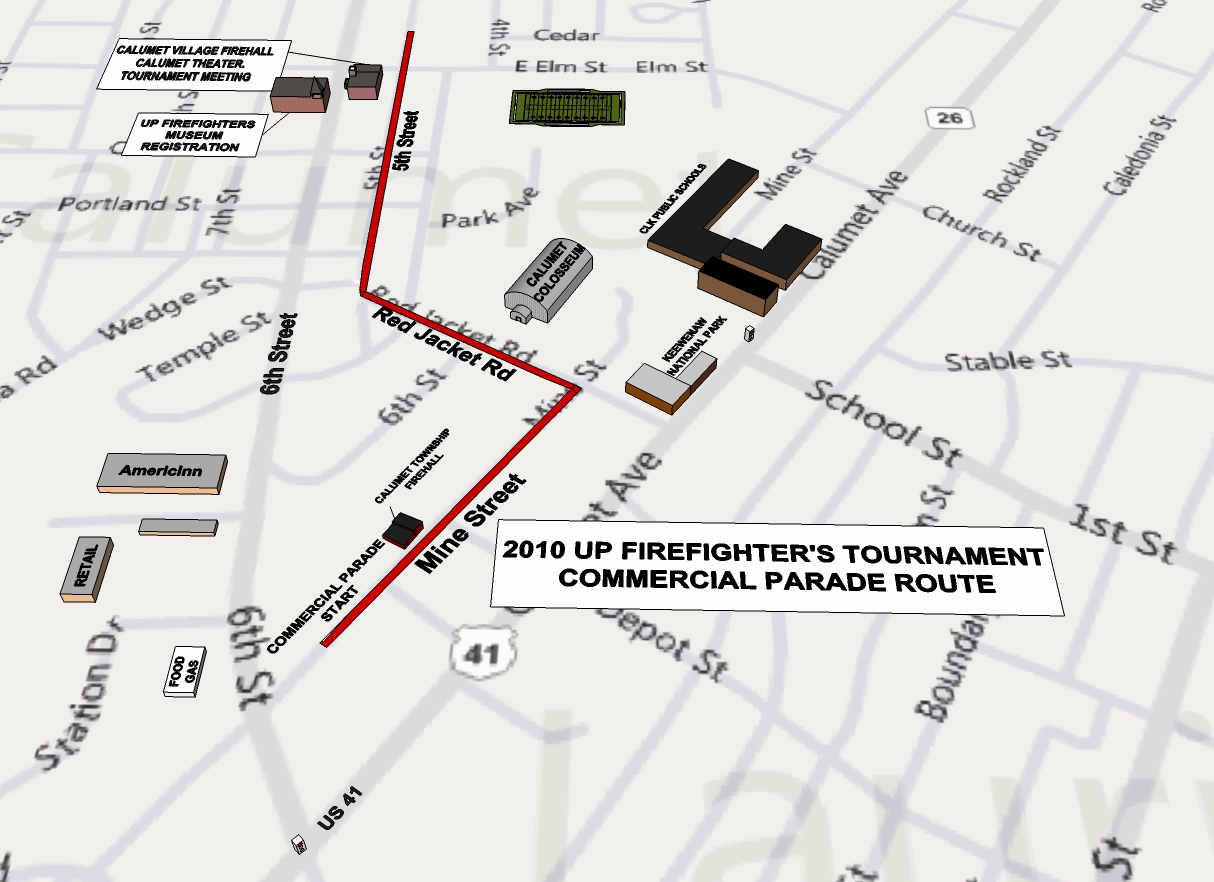 Web Sites Of Interest
Keweenaw Lodging - Places to stay near by
Keweenaw Restaurants - Food and Dinning In the Area
Village of Laurium - Website and Area Businesses
Village of Calumet - Website and Area Businesses
UPVFA Tournament General Rules

Any Questions Email us At: fire2011@charter.net